Introducing the Ryobi ONE+ 18-Volt High Volume Power Inflator. This new cordless tool is perfect for fast, high volume inflating and deflating of air mattresses and pool toys. It can inflate a standard twin air mattress in 45 seconds! This tool is not just limited to inflation and deflation; it can also be used as a portable benchtop blower to keep your work surfaces clean from sawdust or debris; it can even accelerate charcoal readiness time on your grill by providing high volume oxygen where you need it. The pistol grip handles with GRIPZONE oversold provides user comfort as well as a locking trigger feature that prevents user fatigue. These features will help you power through any job effortlessly.
---
Product Videos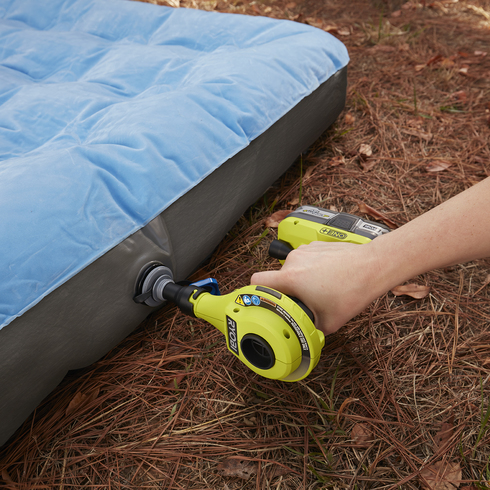 Features high volume inflation and deflation for air mattresses, pool toys, and other large inflatables
Convenient on-board accessory compartment for pinch valve adaptor storage
Use as portable sweeper for work surface clean up
Rapid charcoal starter to quickly heat to desired temperatures
Locking trigger feature prevents user fatigue
Battery: 18V
Flow rate (SCFM): 7.1
Tool Weight: 0.7 lbs.
P738 High Volume Power Inflator
High Volume
Nozzle
Pinch Valve Adaptor
Operator's Manual
18 Volt Inflator - Model p738/p738t
Click the link below to access power tool replacement parts schematics and order parts online.
For those customers that prefer ordering by phone, simply contact the Ryobi master parts distributor at toll free 1-877-545-4099, and place your order over the phone.
Visit Ryobi Power Tools Parts Store