The Ryobi LED Whole Stud Detector is a great product for detecting whole studs behind your wall. The Multi LED's allow you to see the entire stud and not just an edge or center. It uses Auto Deep Scan, technology designed to determine the thickness of your drywall so you can accurately assess what is behind it. With its material detection capabilities, you will always know when you are over metals (non-ferrous), wood and AC wire. With all these great features, the Ryobi LED Whole Detector is the best solution for all your detecting needs.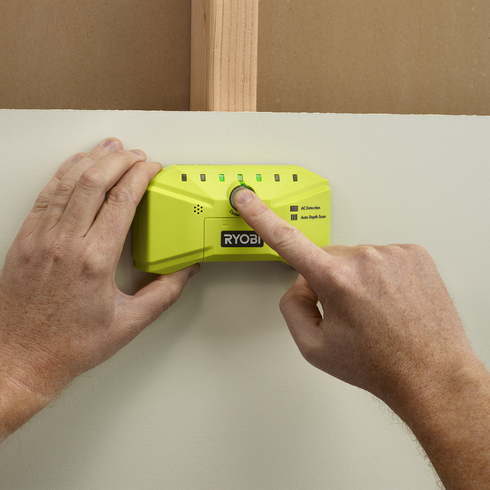 Detects whole studs behind your drywall
Auto deep scan for accurate assessment of drywall thickness
Built-in stud markers
Multi LED's for visibility of the entire stud
Center indicator LED ring will light up when center of stud is found
Battery Type : AA
Number of Batteries Required: 1
Maximum wall thickness (in.): 1.5
Detects: Metal and voltage
Whole Stud Detector
(1) AA Battery
Operator's Manual
Whole Stud Detector - Model esf5000
Click the link below to access power tool replacement parts schematics and order parts online.
For those customers that prefer ordering by phone, simply contact the Ryobi master parts distributor at toll free 1-877-545-4099, and place your order over the phone.
Visit Ryobi Power Tools Parts Store