Detect moisture levels with more confidence and functionality than ever before. RYOBI Phone Works introduces a better, smarter way to monitor and track moisture content in wood, drywall, cement, and other building materials. The innovative Phone Works mobile app and Moisture Meter device turn your smartphone into a pinned moisture meter that reads moisture content and displays the results on your phone screen. Using the free mobile app, you're able to track a wide range of moisture content between 6%- 44% and compare your results to acceptable humidity ranges based on your geographic location. The app lets you capture high-quality images, share results through email and social networks, and includes a data-charting feature that measures and plots your readings over time. Get accurate moisture measurements and smarter features with the RYOBI Phone Works Moisture Meter and Mobile App. RYOBI Phone Works – Transform your phone into your smartest tool.
--
Apple is not endorsing or sponsoring this product. Apple, the Apple logo, iPhone are trademarks of Apple, Inc., registered in the U.S. and other countries. App Store is a service mark of Apple Inc. The Android App on Google Play logo and Google Play are trademarks of Google, Inc.
---
Product Videos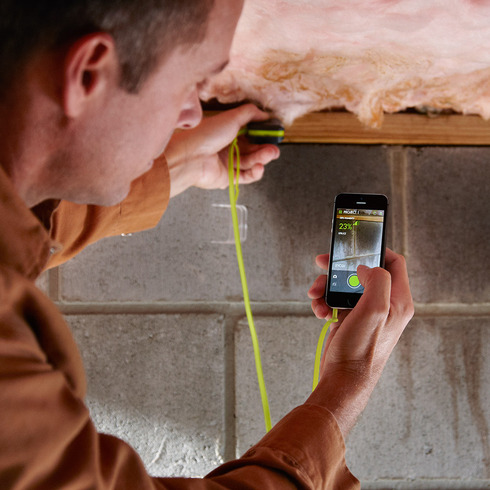 Detects water content in wood, drywall, cement, and other building materials
Displays moisture value against current location based environmental conditions
Smartphone screen displays moisture content between 6%-44%
Measures and plots data over time with free mobile app
App available on the App Store and Google play
Optimized for iPhone (OS 6.0 or later) and most Android phones (version 4.0 or later)
6%-44% moisture range
Environmental consideration
Track Data Over time
Phone dependent screen resolution
Shareable Data
Picture Layover
(1) ES3000 Moisture Meter
(1) Tether Cap
(1) AAA Battery
Phone Works Moisture Meter - Model es3000
For your RYOBI Power Tool replacement part needs, simply click the following link to access replacement parts schematics, as well as, on-line parts ordering through the RYOBI master parts distributor.
For those customers that prefer ordering by phone, simply contact the RYOBI master parts distributor at 1-877-545-4099, and place your order over the phone.
If you prefer to order online please click the link below. Please note that all prices are in USD and will be converted to CAD by your credit card company at the exchange rate set by your financial institution.
VISIT PARTS STORE